Whilst your bathroom needs to be practical, it doesn't mean it can't be beautiful too! Bathrooms should be serene and relaxing, the perfect setting for you to sit back in a bubble bath at the end of a long day at work. The bathroom is often forgotten about when it comes to redecorating, yet it requires a certain level of thought in regards to window dressings to help you create the perfect environment whilst retaining your privacy. Choosing the right bathroom blinds can be a difficult decision but once you've got it right, you'll look forward to relaxing in the tub all day.
Why Blinds Over Curtains?
Bathroom blinds are generally preferred to curtains because they do not retain moisture. Moisture resistant blinds are not as bulky as curtains and allow you to control the level of privacy within the room whilst still letting in light.
Choosing the Right Bathroom Blinds
Whether your bathroom is neutrally decorated or has a burst of colour, our extensive range of products is sure to supply you with a shade that suits your interiors. Why not order a free sample to try the colour out before you buy? We particularly love the Concrete Roller Blind, Dark Blue Roller Blind and Magnolia Venetian Blind. All of these bathroom blinds will add an essence of sleek style!
If you're looking for a mixture of light and privacy, our bathroom vertical blinds offer the perfect solution. The slats can be tilted to suit you so if you're looking to let the light in but still retain your privacy during your pamper session bathroom vertical blinds are perfect. If you're looking for full privacy and to create a relaxing atmosphere, vertical blinds can be closed fully to help turn your bathroom into a stress-free haven.
Bathroom Venetian blinds can look stylish and give you great control over light and privacy, both essential in a bathroom. Bathroom Venetian Blinds are available in a variety of colours, allowing you to highlight or contrast with your bathroom colour scheme.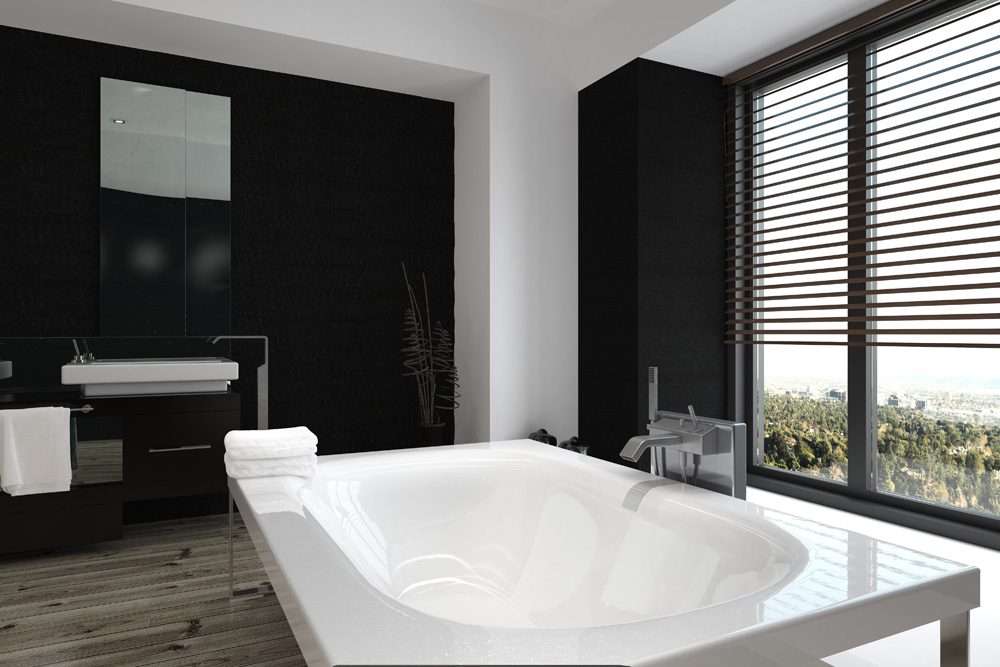 Importance of Water Resistant Blinds
Here at Blinds Direct Online, we stock a full range of water resistant blinds. It is likely you are looking for waterproof bathroom blinds; our ranges of bathroom roller, venetian and vertical blinds are highly water resistant, preventing the formation of mould on the blinds and therefore reducing the likelihood of damp build-up in your bathroom. Water resistant blinds are highly beneficial in the bathroom, especially if you like long hot showers and steamy soaks in the tub! Another huge benefit of water resistant blinds is that they will remain as good as new and retain their style and practicality, even in steamy conditions, as most bathrooms tend to be. Moisture resistant blinds are essential in your bathroom, but don't forget that, although bathroom blinds should look stylish, they also need to be functional and practical too!
We also know how hard it can be to keep your bathroom water resistant blinds clean, with all the products used in the bathroom they can often get splashed and spoiled. Our range of roller blinds is easy to wipe down, leaving no trace of any stain or watermark, allowing you to keep them looking clean and pristine. Our range of Venetian blinds is made from aluminium, a sturdy, nonmagnetic material that's easy to clean. To keep your bathroom Venetian blinds in tip-top condition, they only require a quick dust and wipe down with a dampened cloth.
Not only are our blinds water resistant, they're also fire retardant too, ensuring they provide a level of protection for your family against the danger of a house fire, whilst providing a chic and stylish finish.
Whatever type of bathroom blinds you choose, you have the ability to control your privacy and the amount of light coming into your bathroom. Browse our extensive range of bathroom blinds, available in a variety of shades to complement the style and colour palette of your bathroom. If you're still struggling to find the right blinds, why not find out more about the questions you should be asking when choosing blinds with our handy guide?