As the heart of the home, it is essential that your kitchen blinds are durable, practical and stylish. As somewhere for entertaining, wining and dining, and family meals, the kitchen can be a bustling and hectic room so you need modern kitchen blinds that will stand the test of time and work both practically and aesthetically. At Blinds Direct Online, we understand that you want your kitchen blinds to be the perfect mix of practicality and style. With that in mind, we have a range of kitchen blinds to suit any purpose and décor, and we're sure you'll find the perfect blinds for your kitchen in our range.
Perhaps you're looking for a kitchen blind to fit with your neutral colour scheme? If so, a Stone Grey Roller Blind is perfect for blending into any colour scheme and is a hot trend in kitchens for 2017. Read our guide to find out more about using grey in your kitchen. Our best-selling product, the Matte White Venetian Blind would also offset neutral colour schemes or blend into brighter, livelier colour schemes. For the citrus inspired kitchen, we have a zesty Lime Green Roller Blind to complete the look or, if you're going for a more modern, industrial style, we have a wide range of metallic-based kitchen Venetian blinds including our Metallic Silver Venetian Blind which looks great when paired with chrome kitchen accessories.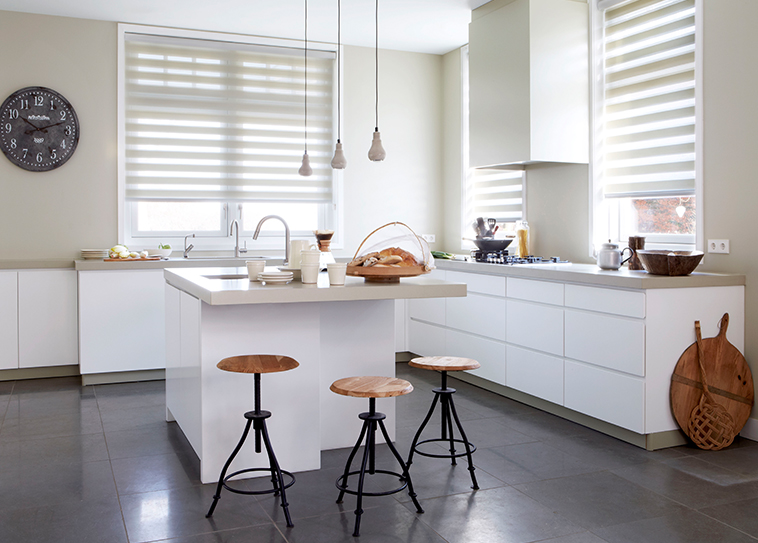 Undoubtedly, you will be looking for water-resistant kitchen blinds. Our range of modern kitchen roller blinds can be wiped clean, leaving no watermark or trace that splashes ever touched your blinds. Our sleek kitchen Venetian blinds are made from aluminium, a sturdy, non-magnetic material that can be wiped clean easily. This easy-to-clean feature makes our blinds the perfect addition to any family kitchen, ensuring that no splash or stain is welcome for long!
Maintaining Privacy
Kitchen blinds are an essential window dressing if your kitchen is road facing and you wish to maintain your privacy. Our kitchen vertical blinds are easy to operate and allow you to choose your level of exposure to the outside world. Our vertical blinds allow you to adjust the slats to maintain your privacy and keep the same levels of natural light flooding into your kitchen. Many people now have patio doors leading from their kitchen into the garden and vertical blinds make the perfect cover for doors whilst still matching your window treatments. Why not try our Grey Vertical Blind or Charcoal Vertical Blind to add a touch of neutral colour to your kitchen?
Kitchen Blinds – Flame Retardancy
An even more important factor than privacy is flame retardancy when it comes to kitchen blinds. The material used to create our kitchen roller blinds is flame retardant and if our kitchen Venetian blinds are hit with a spark from the hob or a candle, they will not easily ignite. Flame retardant kitchen blinds will maintain the safety of your home, whilst providing a sleek and stylish finish.
So, whether you're looking for more privacy in your kitchen, need to control the infiltration of light or want to keep your family safe, our kitchen blinds will fit the bill. Our kitchen blinds are made to measure and, with a variety of colours available, we're confident you'll find the kitchen blind to suit your colour scheme and needs. Browse our extensive range of modern kitchen blinds online today.