The Dining Room is the central room in the house. It's where we sit together as a family, relax, unwind and entertain guests. It's an essential part of family life. The atmosphere you create with the decor in your dining room is important and your window treatments will help to maximise the effect. Great Dining Room blinds can help to create a warm and friendly environment whilst impressing your guests.
As your key room for entertaining, dining room blinds should be attractive and allow you to control the lighting in order to achieve the desired mood. Dining Room blinds should also be practical for everyday use. Dining Room Venetian blinds can be opened at various angles to let in specific amounts of light and create the right amount of intimacy for the perfect dinner for two or create a brighter, more vibrant atmosphere for a large family gathering. If you're looking for something neutral, we highly recommend our Magnolia Venetian Blind or, if you want to match your Dining Room blinds with your table set, why not try our Aliwood Rustic Oak Venetian Blind.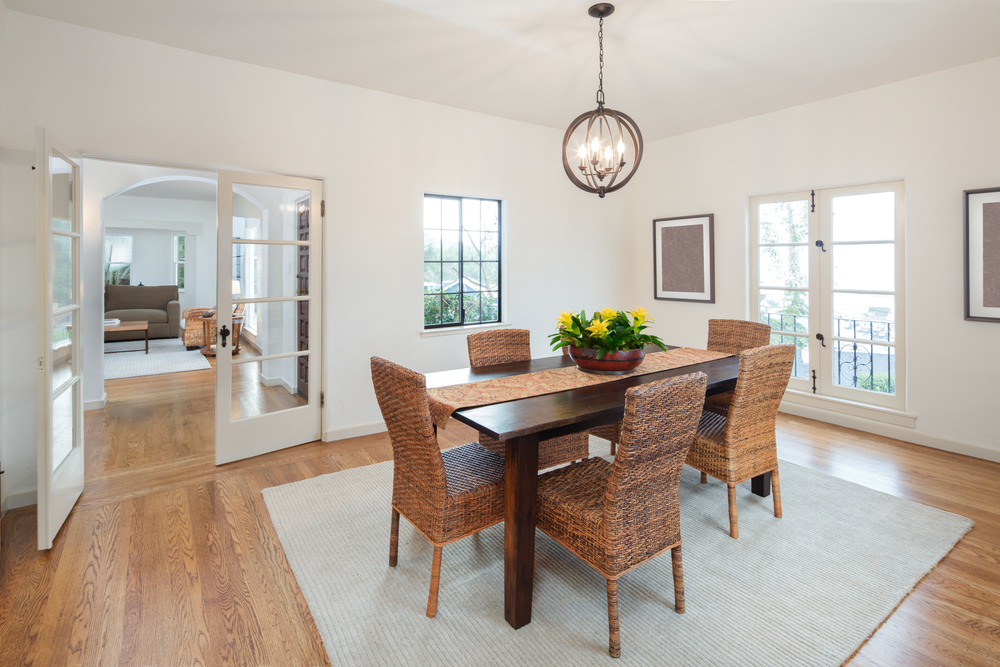 Dining Room roller blinds can also be rolled up or down depending on the amount of light you require and whether you want complete privacy. This is especially useful if your dining room is overlooked or front-facing. We're loving our White Roller Blind and Teal Roller Blind at the moment! See our full range on our website to find your perfect match.
If you're looking for dining room blinds that will offer greater control over light and privacy whilst still retaining a sleek and modern style, why not try our vertical blinds? Many dining rooms have larger windows or even patio doors and may be overlooked. If you want to create privacy, vertical blinds allow you to adjust the slats to keep prying eyes away but still allow in some light so that you're not completely plunged into darkness. When using vertical blinds for patio doors, door functionality is uncompromised, you could even allow air in through an open door whilst keeping blinds closed for privacy. Take a look at our Panache Cream Vertical Blind for a neutral look or try our Smokey Blue Vertical Blind for a splash of subtle colour.
At Blinds Direct Online, we supply Dining Room blinds in a range of colours to help you choose the perfect blind for your home. Blinds can complement your existing decor, blend into the background or complement an attractive dining table set and showcase it in all its glory. Take a look at our website to create the perfect atmosphere in your Dining Room.