The perfect bedroom should be somewhere you can go to relax and unwind after a long day at work. More importantly, it should be the place you go to get a good night's sleep in order to prepare for the day ahead. Having the correct bedroom blinds in place could mean the difference between a good night's sleep and feeling tired, drowsy and unable to concentrate all day.
Bedroom blinds are perfect if you want to control the light that comes into your bedroom as well as adding a splash of colour. At Blinds Direct Online, we supply bedroom blinds to match any colour scheme. If you're not sure which colours would look best in your bedroom, why not order a free sample so you can try the look out first? If you want to feel relaxed and serene when you go to bed, our favourite bedroom blinds are the Smokey Blue Roller Blind and the Moon Venetian Blind. Or, if you're going for a more neutral look with your bedroom blinds, why not try the Magnolia Venetian Blind or Iron Roller Blind?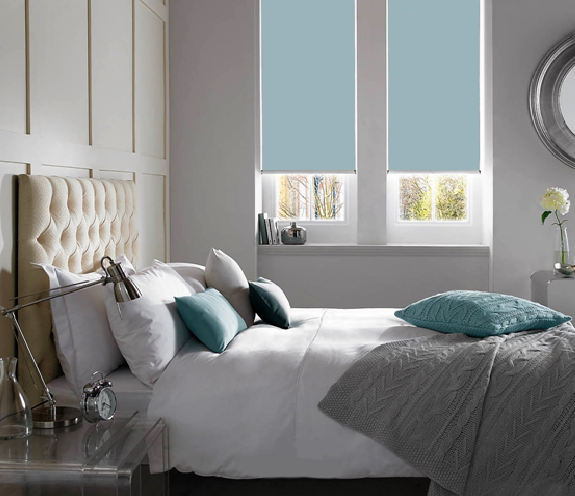 Roller blinds and blackout roller blinds are great for blocking out the light during the day as well as during the night. If you're one of those people who can't sleep unless it's pitch dark in your bedroom, our bedroom blinds are made to measure so will fit your window perfectly to minimise the amount of light that's allowed to filter through. We also supply Venetian bedroom blinds which are stylish and attractive and, when fully closed, are effective at blocking out light but can also be adjusted to filter light levels depending on how you sleep, the time of day or your mood.
If you have young children who nap during the day or you work night shifts, bedroom blinds can be a great solution. Bedroom blinds might also keep children in bed for an extra hour instead of waking up at dawn and disturbing the whole house! At Blinds Direct Online, our full range of bedroom blinds are child safe so you can be reassured that your children will be safe from the dangers of pull cords.
If keeping your bedroom clean is top of your list, blinds gather far less dust and dirt than curtains so provide a low maintenance solution. Roller and Venetian blinds can be wiped clean with no need for removal to save you time and keep your bedroom a dirt-free zone! Blinds can also reduce the amount of noise that comes into your bedroom and block heat from coming in in the summer and prevent heat from leaving during the winter.
When looking for even more control over privacy and light in your bedroom, why not turn towards vertical blinds for your bedroom windows? Slats which are adjustable by 180 degrees allow you control how much light you want to flood into your bedroom at various times of the day. Plus, if you want to block light out completely, you can try our blackout vertical blinds for your bedroom windows. Vertical blinds provide you with as much or as little privacy as you wish and their flexibility makes them a great choice for your bedroom.
At Blinds Direct Online, we're committed to helping you get a better night's sleep which is why our range of bedroom blinds is tailored to meet all of your sleep needs. If you're struggling to get a good night's sleep, read our essential guide to a better night's sleep and change your sleeping patterns for the better. Or, if you'd like to sleep like a world leader, try our quick guide to find out more about the sleeping habits of our most famous and notorious world leaders.  Who knows, maybe our bedroom blinds could help you get a better night's sleep and turn you into the next Richard Branson!
Whatever your needs, we're sure that our range of blinds will provide you with the blind you need to create a relaxing environment to help you drift off to sleep easily and peacefully. Browse our website to find your perfect bedroom blind.