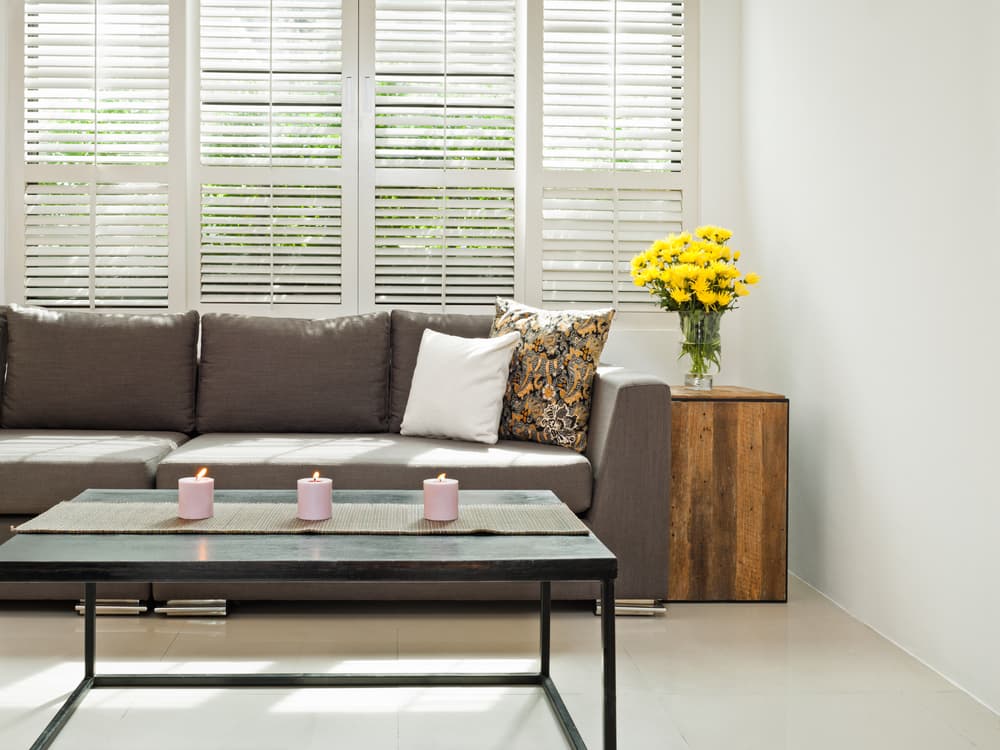 What are Venetian Blinds?
Venetian blinds are one of the most popular types of blind available for contemporary homes, even though they have a long history of use in home and commercial premises of all styles. There's something distinctive about Venetian window blinds that continues to make them both a popular choice and an attractive one.
The structure of Venetian blinds is a simple one: they are horizontal slats made from either wood or metal and suspended on ladder cords. They can be easily adjusted to let in more or less light, and they're easy to raise and lower. Beyond that, what else do you need to know about Venetian blinds?
What Type of Windows Best Suit Venetian Blinds?
Venetian blinds have a long reputation as the go-to blind for office settings, and this remains the case. The attraction for office buildings (and, indeed, home offices) is that Venetian blinds allow the amount of light filtering into a room to be adjusted as and when it is necessary. Whereas curtains often block all light or none at all, Venetian blinds can be easily adjusted to both limit the amount of light and alter the direction that it's entering the room.
This is what makes them an excellent option for kitchens and bathrooms too. As well as the hygienic benefits (see more on this below), they allow for light control in rooms where constantly drawing and undrawing curtains or turning the light on and off would be impractical and a waste of energy – both your energy and the planets.

Benefits of Venetian Blinds
So, Venetian blinds are popular in kitchens, bathrooms and offices amongst other locations, but what are the benefits that keep homeowners and business owners returning to these tried and tested blinds?
– Suitable for any size of window
– Easy to operate
– Easy to clean
– Allow privacy and light control
– Affordable option
– Available in a variety of finishes to provide customer choice
– Can be made to measure
It's important to remember, though, that while Venetian window blinds, there are some households that might prefer other types of window covering. For example, small children and the cords of Venetian blinds often don't mix, and lightweight slats can be easy to damage which will then have a knock-on effect on the attractiveness of the window as a whole.

How to Clean Venetian Blinds
It's when people consider how to clean Venetian blinds that they might be dissuaded from buying them, although the effort it takes is usually overstated. While it's true that Venetian blinds attract dust thanks to their horizontal slats and the construction of the blind, regular attention will keep the worst of the dust at bay.
This is an effective cleaning routine for Venetian blinds:
– Dust once a week with a soft lint-free cloth or feather duster by closing all the slats on the blind and sweeping the duster down in a vertical motion.
– Every few months, undertake a deeper clean which can involve taking the blinds down (if that's appropriate) or can be undertaken with the blinds still hanging. Similarly, you could use a specialist Venetian blind cleaner tool that allows you to clean multiple slats at once with an item that looks like a set of foam fingers or you could use a good old-fashioned soft cloth to get into the slats with a gentle cleaning solution. Tougher stains may require a little more attention.
Remember, too, that a big part of "how to clean Venetian blinds" depends on the material and design of your individual set of blinds. For instance, never use harsh chemicals on wooden blinds, and stay away from solutions that are apt to warp the wood.

What are Perfect-Fit Venetian Blinds and Where Are They Used?
Perfect-fit Venetian window blinds are completely made-to-measure, meaning they'll fit into any window space, no matter how oddly sized or shaped. As you'd expect, they're slightly more expensive, but they can provide window coverings for locations where you might otherwise struggle to find something that works. For example, UPVC windows and doors can be built to fit the contours of a property, but then you need blinds to fit those contours too. And no matter how small your window, we can make small Venetian blinds if that is what your room needs.
Venetian Blinds from Blinds Direct Online
Blinds Direct Online offer a wide range of Venetian window blinds to suit any property and style of furnishing. Along with a variety of ready-made options, we also offer Venetian blinds made to measure for any type and size of window you can imagine. Blinds Direct Online are fully compliant with all British safety standards and we offer permanently low prices with no gimmicks and no stressful small print. Browse our website to learn more or get in touch today for a quote.