When you have children or you're expecting a baby, there can be a million things for you to worry about. The decor of their first bedroom or nursery can be hard to get right but, here at Blinds Direct Online, we want to make it easier for you with our range of children's blinds, nursery blinds and baby blinds. Our full range of blinds is not only designed to look stylish but to keep your children safe whilst helping them AND you to get the perfect night's sleep.
With our range of child safe blinds, you can rest assured that your children will sleep soundly at night. We combine colours that will help you to calm your children and add a splash of colour whilst also giving them a great night's rest with practical elements such as child safety cords and blackout materials. Our child safe blinds give you peace of mind whilst your child is playing in their room or sleeping.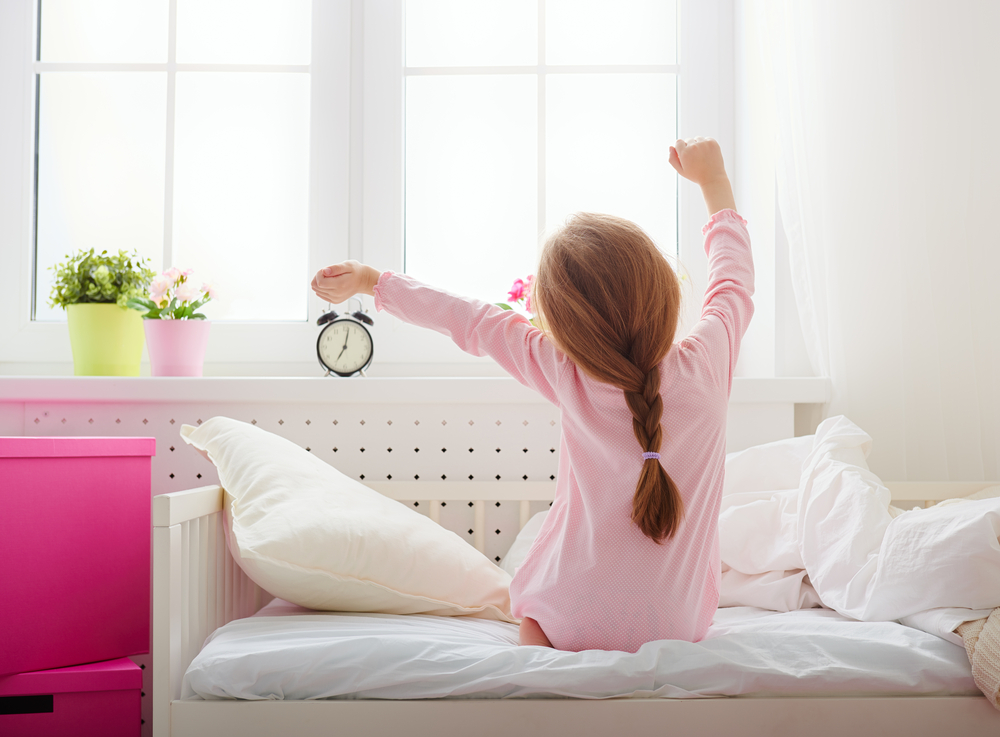 If you're looking for nursery blinds and you want to add a neutral touch to the decor, try our spring roller blind, linen blackout roller blind or vanilla venetian blind. For children who know what they want and you need to add a splash of colour, why not take a look at our sky blue blackout roller blind or lupin venetian blind?
Roller blinds are a simple yet attractive addition to your child's bedroom. If you get the interior design right, they can add a key focal point and really bring the space to life. Or, if you're just looking for practicality, we have a range of neutral colours which will simply fade into the decor.
Make bedtimes easier by adding a blackout roller blind to your little one's bedroom. Our range of children's blackout blinds are a great option if your child is a light sleeper or, in summer when lighter mornings leave you with unwanted wake up calls. Lighter nights during the summer can make children and babies more restless and less willing to go to bed at a reasonable time. We all know they don't want to go to bed when it's still daytime outside! They're also useful if you want to add nursery blinds for children who need to sleep during the day.
Naturally, the safety of your child whilst they're unsupervised in their rooms at night is of paramount importance to you and us here at Blinds Direct Online. That's why each and every single one of our blinds is fitted with a child safety cord to protect children from the many dangers long cords can present. This does not affect the quality of the blind but makes sure you get a worry-free nights sleep.
Our range of Venetian children's blinds also come in a range of stylish, bold and relaxing colours to help you create the perfect sleep environment for your children. Roller blackout blinds are great for blocking out light completely and can be rolled away completely during the day to transform the room into a playroom. Venetian blinds allow you to control levels of light throughout the day so, if you're trying to get a baby to sleep in the afternoon, you can allow a little light in to help them wake up after their nap without dazzling them.
In addition to light levels, our range of children's blinds also help to keep the temperature of the room at the right level all year round. Absorbing heat in the summer and keeping the warmth in in the colder winter months, our blinds will make sure your children don't wake up in the night because they're too hot or too cold. Blinds also help to absorb noise from outside keeping levels to a minimum in the bedroom.
Don't forget our range of vertical blinds for your child's bedroom. Our vertical blinds are perfect for children who still need to nap during the day – you can fully close the slats to create complete darkness and, when you want to gently wake your child, open the slats at a range of angles to allow as little or as much daylight as you wish. Vertical blinds are the perfect solution for larger windows and cover the window edge to edge in order to prevent extra light from sneaking through.
All of our children's blinds are made to measure so you can ensure that you find the perfect fit and avoid sneaky slivers of light getting through due to ill-fitting blinds. Whether you choose roller blinds or venetian blinds for your child's bedroom, you have the ability to control privacy, light and temperature to help you and your children get a better night's sleep, whilst being assured of your child's wellbeing with our child safe blind.