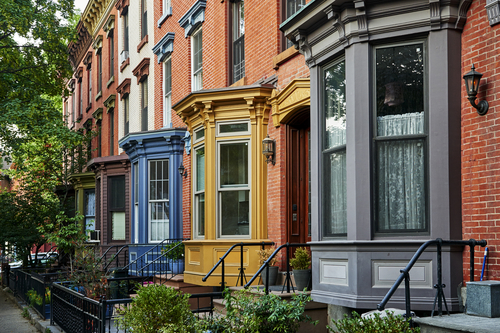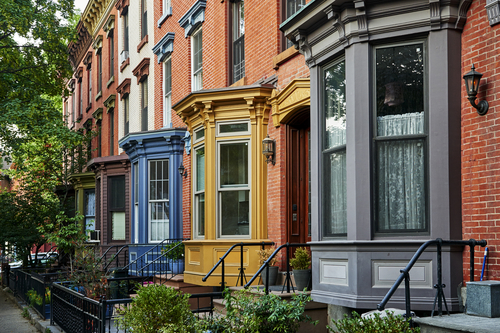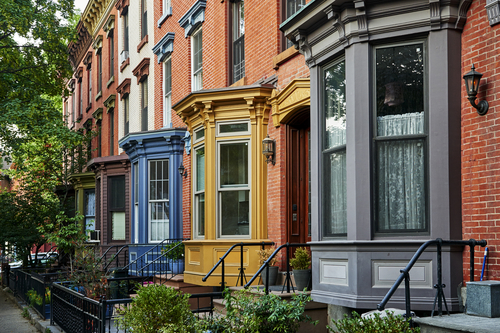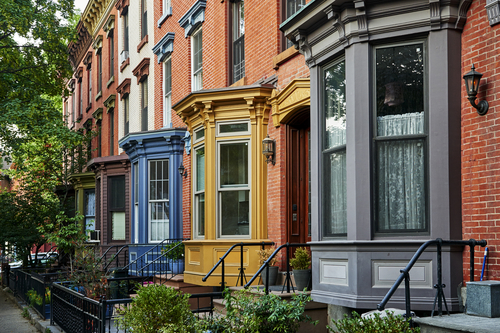 Bay windows are a huge feature of period and contemporary style homes, allowing maximum levels of natural light in and creating a spacious effect. However, many people are unsure about how to dress the bay window without ruining its effect and, due to the variations in size and shape; there are very few ready-made options. It can be hard to select the right bay window blinds for each type of bay window, to retain the privacy and light you seek, so deciding what style you're looking for your window dressings is a challenge in itself! Bay window blinds are often the best option and are the most flexible solution for homeowners looking to keep the bay windows as a feature. Rest assured, rectangular or square bay window blinds will enhance the window and keep it a focal point in your room.  At Blinds Direct Online, all of our blinds are made to measure which means that you can make the most of your bay window with bespoke window coverings that fit like a glove.
There are many different types of bay window blinds and finding the right solution depends on; your room, window and your needs or wants in terms of light and privacy.  If you are confused about which are the best blinds for bay windows, here's our quick guide to the different types of blinds for bay windows you can choose from.  This information also applies to bow window blinds, so please continue reading for advice on choosing both bow window blinds and bay window blinds.
Bay windows might be an extremely attractive feature but if they contain three or more panes and, especially if they're at the front of your home, they provide opportunities for nosy people to peer in. Vertical blinds for bay windows are a great option if this is the case because the slats can be tilted to stop people from looking in without sacrificing the ample amounts of light provided by bay windows in the first place. Vertical blinds for bay windows can look both stunning and subtle, providing the perfect solution for a variety of window settings. Our patterned vertical blinds could help to create a feature of your window and emphasise your existing decor and colour schemes. If you're going for a more neutral scheme to blend in with your decor and create a subtle effect, try our Vanilla Vertical Blind, which will create a very attractive look.
If rather than having blinds covering the whole window, you're looking to cover each pane of glass individually, roller blinds for bay windows are the best option. Roller blinds can be set at varying heights in order to create interest or, more importantly, to block out the glare from the sun as it moves around your home without having to sit in darkness all day!  Sometimes half window blinds are more appropriate.  Set halfway down the window, these can give sufficient privacy to the lower half of the window, whilst allowing full daylight above.  Another benefit of roller blinds is that you have the option of having black out blinds for your bay windows, something you may consider if you have bay windows in your bedroom.
Bay windows are designed to increase the natural flow of light into your home and provide views you don't have from normal windows. Pick out lightweight and light coloured roller blinds such as our Grey roller blind or Smokey Blue roller blind in order to emphasise the look of your window but still allow sunlight to gently filter into the room. Bay windows also help to make your room look bigger and more spacious so bay window blinds work better in lighter colours to maintain this effect.
Bay windows contain a much larger surface area of glass than traditional windows so there is a chance that greater amounts of heat will escape. Roller blinds, in particular, will help to retain the heat in your home during the winter and reflect heat in the summer.
Perfect Fit Venetian Blinds for bay windows are another great option. They can be clipped into PVC window frames and we can turn the blinds into an integral part of the window, leaving the windowsill and window area clutter free. Each panel of the blind can be opened individually or drawn at different levels depending on the position of the light. Perfect fit blinds can be installed without affecting the overall look of your bay window or room and blend seamlessly into the decor.
You might have wondered what is the difference between a bay window and a bow window?  A bay window usually has a larger 'picture' window with smaller window panels to the side, usually forming a square or rectangular shape.  A bow window tends to have 5 or more window panels, forming a semi-circular, or 'bow' shape.  But as far as blinds are concerned, the same principles apply when purchasing bow window blinds as to purchasing bay blinds.