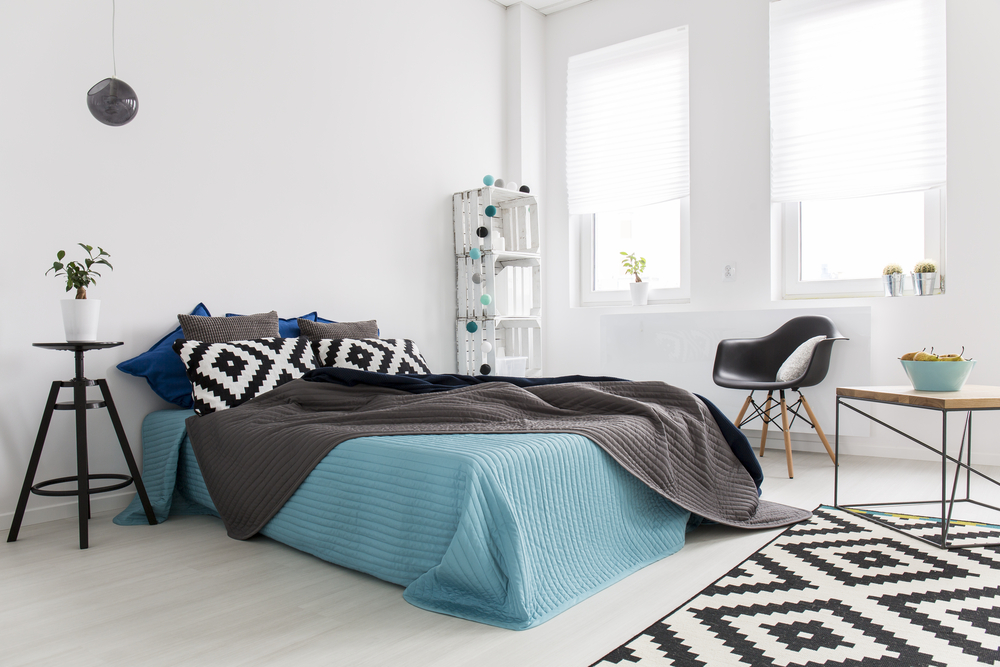 Top 10 Patterned Roller Blinds for Bedrooms
Did you know that the average human being sleeps for one third of their entire life? That's a long time to spend in bed by any standard and, unless you want to bumble around tired for the other two thirds of your life, you need to make sure that the quality of your sleep is good too. A key element of this is controlling the amount of light creeping into your bedroom.
Light is a real problem when it comes to getting to sleep and staying asleep. Artificial light, such as that from car headlamps and street lights, suppresses melatonin, the hormone that helps your body shut down for sleep. Natural light also serves as an indicator to your body that it should be awake. Normally, that's fine, but getting up at 5am during the summer isn't often a person's favourite thing to do! So, keeping both artificial and natural light out of the bedroom is a must for making the most of your sleep time.
Why Choose Blinds in the Bedroom?
Think of blinds as your extra protection against unwanted light. You might have curtains already but find these aren't keeping out as much light as you'd like them to. Equally, some people don't like curtains, feeling that they shrink a space. If you have a small room, this can make it seem even smaller. Within a bedroom, then, blinds can provide an effective barrier against light while still allowing a room to feel open and airy. Also, thanks to the way blinds work compared to curtains, there's less chance of your privacy being invaded by gaps in the curtains that can let in prying eyes as well as light. One further benefit is that blinds can fit into any room style due to the numerous designs on offer.
What are Patterned Roller Blinds?
As the name suggests, roller blinds are blinds that roll (and unroll) to allow light into a room. Ideally, these blinds are designed specifically for the size of the window to maximise the amount of light blocked out. The patterns offered on roller blinds have proliferated in recent years as more and more people opt for contemporary blinds instead of curtains. This leaves customers with a huge amount of choice.
---
To inspire you, we've collected 10 of our favourite patterned roller blinds for you to consider for your bedroom.
Which ones are your favourites?
1. Hydrangea Primrose Roller Blind
This stylish blind brings a touch of the orient to your home. Oriental patterns and floral prints add a splash of elegance to any room while not shrouding it in dark colours. Take a look at these Ideal Home oriental colour schemes to see how beautiful oriental blinds can look.
2. Azzura Aqua Roller Blind
Coming from the Italian word for "sky blue", the Azzura is a piece of blue sky thinking for any bedroom. This mix of blues and greens in a jazzy pattern is a great fit for contemporary design styles with an emphasis on angles and block colours.
3. Casablanca Smokey Blue Roller Blind
Bring Morocco into your home with this African-inspired blue patterned blind. We like this one because it fits perfectly alongside neutral décor, making it an option for any customer wanting a splash of colour alongside their neutral walls.
4. Bute Charcoal Roller Blind
The Bute Charcoal pattern brings a classical look to any room. While the colours are bold, the pattern is tessellated dogtooth and so far from plain. This blind is a great compromise between the traditional and the contemporary – great if you have two conflicting personalities making the choice.
5. Tropics Verde Roller Blind
This vivid fabric option is a vibrant tropical green in colour and will draw attention to the window constantly. If you want a focal point for your bedroom, this blind may be right for you – just be careful it doesn't overload the room in smaller spaces.
6. Tropics Noir Roller Blind
If you like the pattern of the Tropics Verde but aren't a fan of the vivid colours, then how about the Tropics Noir? This pattern is more muted and, some would say, ideal for the bedroom with the connotations of a jungle at night. All you're missing are the tropical bird sounds to help you drift off!
7. Casablanca Sand Roller Blind
The Casablanca Sand is a rich combination of Africa and coastal colours that are popular with contemporary homeowners and residents. For inspirational décor designs including coastal paints that would sit perfectly alongside this blind, take a look at Sand & Sisal.
8. Hydrangea Sky Roller Blind
This is a more vivid version of the Hydrangea Primrose and represents a bold statement that can be used as a focal point in your bedroom or any other room. The pattern combines yellows and blues to create a blind that would be ideal alongside room designs including those colours or even neutral colour designs.
9. Azzura Burnt Orange Roller Blind
Do you have a hankering for a bold and colourful blind that will block out light at the same time as creating a stunning window covering for any room? The contemporary Azzura in burnt orange ticks all those boxes.
10. Azzura Grape Roller Blind
Some rooms need a stylish backdrop that is nevertheless non-intrusive. In small spaces, especially, the need to make the room seem larger is often key to successful décor, and the Azzura Grape is a practical yet beautiful addition to that.
---
What are "Made to Measure" Blinds?
Blinds that are "made to measure" are, as mentioned above, specifically sized for your window. If you buy generic sizes from manufacturers, you may end up frustrated at the amount of light those blinds let in. This especially applies to older homes where window sizes weren't as generic as those today are apt to be. Choosing blinds that are made to the specifications of your windows will save you from having to do it all again if your generic choices don't fit.
Blinds Direct Online Offer FREE Fabric Samples
Another concern that customers have with choosing roller blinds is that fact that they don't really know how they'll look in their space. This is particularly true when they're purchasing from online companies, At Blinds Direct Online, we endeavour to tackle that problem by supplying customers with free fabric samples ahead of their purchase. Testing them in your room with your personal décor allows you to catch any errors before it's too late.
Other Types of Blinds
These are just some of our favourite roller blinds suitable for bedrooms. However, we don't just offer patterned blinds, and you might find that a different type of blind works better in your room. For instance, blackout blinds are ideal for children's rooms or for home on busy roads where artificial light in at its most invasive. Equally, block colour roller blinds might be more suited to your design scheme and be more visually appealing to children. You might, on the other hand, prefer to install made to measure venetian blinds for an elegant blind option that fits alongside many modern design schemes.
Whatever blind style and colour you prefer, we have the right option for you.